Our Top Locations for Engagement Photos in Central NJ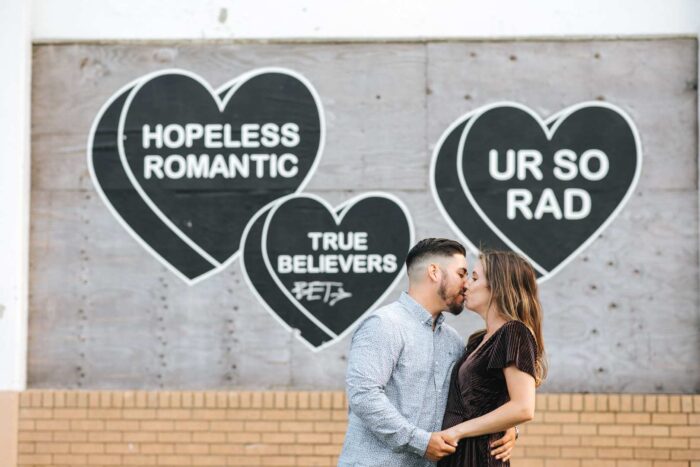 Over years of photographing weddings and engagement session we have seen what seems to be nearly every town and park in New Jersey at one time or another. While we can find the beauty in any setting and capture amazing photographs, some locations stand out for being made for portrait style photography. Below are the top seven that we recommend over and over again to engaged couples looking for engagement session locations in and around central NJ before the wedding day. They are spread between Monmouth, Mercer, and Ocean Counties but only a short distance from other nearby counties as well. 
Some are beautiful gardens, others are along the Jersey Shore, and the rest have a unique vibe and architecture. They all are easy to access without any excessive walking distances or hiking that could interfere with looking good for the photos. To top it all off, none of these require any permit and are all generally free to access. 
Sayen Gardens - Hamilton Township
A Beautiful Arboretum Garden
Sayen Gardens in Hamilton Township is a perfect forested green park that has been combined with a beautiful flower and foliage filled arboretum. From being planted nearly a century ago, parts of it look like a magical landscape that you could stumble across in a storybook. Every step of the way down the many paths you find unique plants and sections which all bloom at different times of the year so that from spring through fall there are always beautiful colors to be found. Beyond the plants, there are benches, a pond, a pair of bridges, a not cheesy looking gazebo, and wooden arches which are spread among the grounds to add something a little different to the photos. 
If you just want beautiful engagement photos during any time of year then Sayen Gardens is our number one recommendation in Central New Jersey. From almost anywhere in the state is is only an hour drive and oftentimes even less.
Allaire State Park - Wall Township
A Historical Village in a Forest
Allaire State Park is beautiful all year round and the perfect spot for an engagement session during any season.  There are plenty of forest paths and clearings that are beautiful both when full of green foliage in summer and spring but also in the fall when the leaves turn bright oranges and yellows. Right in the middle of the park is a historic colonial village of a variety of wooden barns and brick buildings with a winding pathway among them all. Just off the walking paths are ponds, rivers, fields, and bridges that help to break up the forest and giving great little stopping points. Although park spans literally thousands of acres it's still only a 10 minute walk from the parking lot to get to all of the most photogenic areas.
Allaire State Park is located right off both 195 and the Parkway and does not require any permit to photograph in (only a very very low cost entrance fee for certain times of the year).
Sandy Hook - Atlantic Highlands
A Natural Waterfront Area & More
There aren't many parts of the New Jersey coastline left that are still in their relatively natural state aside from the Sandy Hook Peninsula. Although it has sections of ocean beaches that are popular in the summer there is so much more in the area to explore. We don't even have to go onto ocean beach itself when we photograph here and instead love to focus on the more natural landscapes and interesting architecture. 
There is a section of a historic military fort with a large stone hallway (original used to move missiles) but now perfect for a walk in and hand down. The Sandy Hook Lighthouse and old barracks buildings have features that date back to the 1940s. Then there is a range of all natural beach sections where pathways through the sand give way to a huge area of dunes and tall grasses with sweeping waterfront views. Unlike most beaches in New Jersey, you can even capture the sunset over the water on the bay side of the park with the Atlantic Highlands in the background.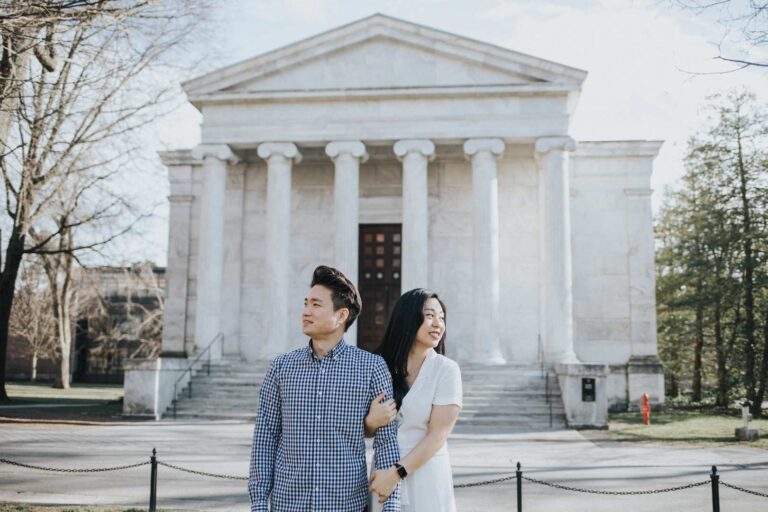 One of a Kind Architecture
When someone asks us for engagement sessions recommendations we always say there are parks, beaches, and the city but always add in the totally unique spot like Princeton University. Though it is a college, the main section of the campus is so beautiful you would never guess there were offices and classrooms within. Spread through perfectly landscaped walkways are stone arches, an eclectic mix of centuries old buildings, ivy covered walls, and little garden nooks. It can almost be a bit overwhelming because just everything spot looks beautiful. The sun just always seems to be setting in the perfect direction as well that gives every photo the most perfect lighting. Because it isn't totally reliant of green plants, it even photographs well in the middle of winter with snow on the ground.
If you are looking for an engagement session with a wide variety of looks and sets of photos that you would almost never guess were the same place than Princeton is the perfect choice. 
Asbury Park - Beach & Boardwalk
A Beach Town with Awesome Architecture & Art
Asbury Park is a beach town with artistic vibe and downright fun culture that is unlike like any others around. Taking a walk down the main section of the 1/4 mile of boardwalk stretching from Paramount Theater to Casino Building provides endless photographic opportunities. On both ends of the boardwalk are sets of always changing colorful wall murals that individually are amazing photo backdrops. You can take the traditional beach style photos with the ocean waves but also in the opposite direction with all of the architecture behind. Even ignoring totally the oceanside section of Asbury, the downtown has a ton of colorful storefronts and restaurants that we love to stop by and grab photos with. 
We can't think of anywhere else in NJ that has the same kind of potential to be used in so many different ways for photographs. For a Jersey Shore vibe with an artistic and charming  twist, this is definitely a spot to consider.
Manasquan - Beach & Inlet
An Ocean and Bay Beach all in One
The Manasquan Inlet is one of the few places near Monmouth County that allows you watch the sun set over the water horizon without having to wake up for the sun rise. It is is surrounded by ocean, inlet, and bay on three sides so that nearly every direction has a water view. The bay beach is located is at one end of the inlet in the Fisherman's Cove conservation area. This park-like spot has sand trails winding through lots of tall dune grass and green beach trees. It's all faces perfect direction so that the sun gives a beautiful glow to the photos. On the opposite side of the inlet is the giant rock jetty that extends into the ocean. Photos on the rocks themselves are always beautiful and the beach area immediately next it gives the traditional beach engagement session photo opportunities. 
Spring Lake - Divine Park & Beach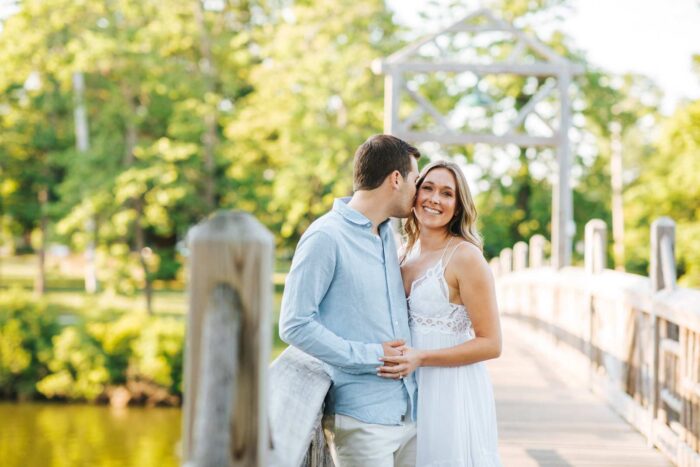 A Beautiful Park a Block from the Ocean
We always love locations that can be two totally different looks in one and this pairing of spots is among the best. Divine Park is a beautiful lakeside park that is just a block from the ocean beach in Spring Lake. In the park are pair of wooden bridges spanning the lake and pathways lined with tall green trees that wind around it. Spending 30 or 45 minutes here always makes for beautiful photographs with a nice green backdrop without a ton of walking around. But what makes us recommend this is that you can jump in the car for a quick outfit change and 3 minutes later be standing on the ocean beach at the perfect time to catch the sunset. We don't need to describe the ocean beach in great detail but it has a boardwalk, pristine sand, and beautiful water itself without ever being too crowded.